Israel demolishes Bedouin village
Source: http://english.aljazeera.net/news/middleeast/2010/07/2010727133151458970.html
Juli 2010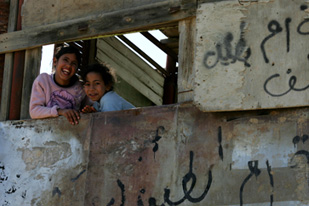 Forty-five Bedoiun villages are not recognised
by Israeli authorities [Gallo/Getty
Israeli authorities have demolished the homes of about 300 Bedouins in a village in the southern Negev desert. The entire village of al-Arakib was bulldozed on Tuesday, with many of the former residents' cattle, trees and belongings lost.

Al-Arakib, which had about 40 homes, is one of 45 Bedouin villages not recognised by Israeli authorities.
Haia Noach, director of the Negev Co-existence Forum, was present at al-Arakib during the demolition and said that at least five Israeli bulldozers arrived around 5:30am (0230GMT).

"It took them about three or four hours to destroy all the houses," she said, describing the scene as "appalling." Scuffles erupted as the villagers and around 150 rights activists tried to stop the police from carrying out the demolitions, with several people wounded and a handful arrested, activists said. Speaking from a town near Beersheba, Noach said that many of the residents had moved to a nearby graveyard to find shade.

Evacuation notice

Police spokesman Mickey Rosenfeld confirmed the early-morning operation, saying the homes had been "illegally built" and were destroyed in line with a court ruling issued 11 years ago which was never implemented. "Around 30 shacks were removed and several hundred people were taken back to the Rahat area where they originally came from," he said, referring to a nearby Bedouin town in Israel's arid south. He said three people had been detained for questioning but were later released without charge. Noach said Israeli authorities had first given residents of al-Arakib a notice to evacaute on June 15, but that no action had followed, so the residents began to doubt that the demolition would occur. But this morning, Israeli police arrived and forced residents to leave their homes within minutes, Noach said.
The demolition team destroyed water tanks and removed generators. "It's like a declaration of war. They don't want you here," Noach said. "It's unthinkable." The residents are now waiting for aid and will probably set up makeshift tents and facilities on the scene, Noach said. According to the Negev Co-existence Forum,around half of the 155,000 Bedouins in the Negev - all of whom are Israeli citizens - live in villages that are unrecognised by the government, without municipal services like water and electricity.

__________________________________

247 Emmaus, (Imwas) und seine ethnische Säuberung. auss er Palestina gibt es heute whol kein anderes Gebiet, in dem Rassismus "Verfassung" ist und wo diejenigen, welche von den Zionistzen aus ihrer Heimat Vertrieben wurden, als Terroristen bezeichnet werden, weil sie sich gegen ihre fortschreitende Vertreibung wehren. Die Zionisten haben bereits über dreihundert Dörfer ethnisch gesäubert und zertsört.